Authentic Romagna tradition
Plenty of comforts to make you feel right at home
We welcome you to our 3-star hotel in Cattolica, only a stone's throw away from the beach and town centre, to enjoy wonderful relaxing days under the sun.
Our location in Via Bologna guarantees tranquillity, but also provides shopping close by in Via Dante, a well-known pedestrian area near the hotel.
Romagna's trademark welcoming spirit will bring a smile to your faces and ensure you enjoy a pleasant stay at our hotel.
Traditional cooking that combines great flavours and simplicity
Exquisite dishes to satisfy each and every palate!
We satisfy all tastes with a typically Romagna cuisine: a breakfast with delicious homemade desserts as well as salami and cheese for savory lovers, for lunch and dinner 3 menus with a choice of meat, fish and vegetarian and a large buffet of vegetables and various appetizers to make you tease and taste our every delicacy.
Our chefs will also think about the habits of your children, preparing pappine every day with the utmost care.
... and to immerse yourself in tradition every week unmissable Romagna evening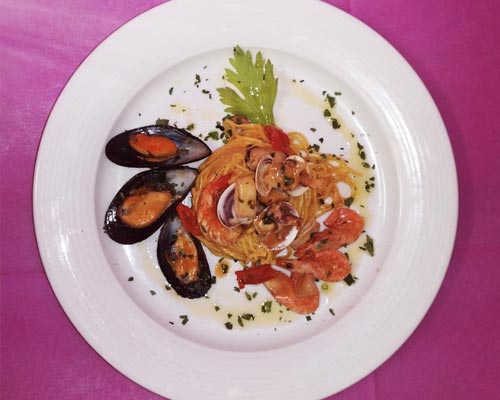 Welcoming rooms for a relaxing holiday
...after a day on the beach
Our rooms offer you total comfort and quietness to make you feel at home.
Every room has a Wi-Fi connection, balcony, air conditioning and ceiling fan, safe, minibar, bathroom with hairdryer and a large shower, TV and Wi-Fi.
For the little ones we offer practical baths ideal for bathing comfortably and without danger.